Education & Job
MBBS students left in lurch as UP college fails inspections
Inadequate faculty, fake patients in its teaching hospital, and other deficiencies found during repeated inspections by the Medical Council of India (MCI) have led to Glocal Medical College in Saharanpur being barred from admitting students from academic year 2017-18 till 2019-20. Yet, about 75 students admitted in 2016 are trapped in the college as the Uttar Pradesh government refuses to transfer them to other medical colleges as other states have done in similar cases.
They are among hundreds of students still facing the consequence of the 2016 decision of the MCI's Oversight Committee (OC) appointed by the Supreme Court that year. The OC allowed several colleges to take in students despite MCI inspections showing they did not have adequate facilities to start a medical college.
In what's become a standard tactic, many colleges challenged the MCI inspection report and the OC allowed them to take in students on the basis of a bank guarantee of Rs 2 crore which they would forfeit if they failed to run the college according to norms. With an annual tuition fee per student of Rs 11 lakh in the case of Glocal that would be about Rs 8.25 crore a year from the 75 students.
Of the 75 admitted in 2016, 23 were allotted to this college through state counselling. The rest are fighting a case for their admission done outside state-organised counselling to be regularized. Not only did the state government allot students to the college, it had also issued an essentiality certificate certifying that the teaching hospital had adequate clinical material.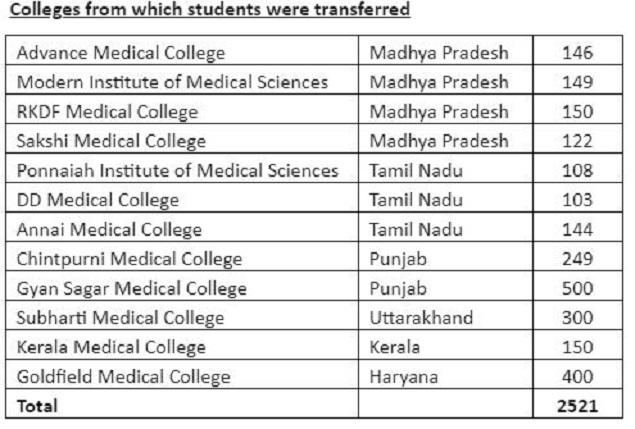 In the essentiality certificate, the state government also guarantees that "in case the applicant fails to create infrastructure for the medical college as per MCI norms and fresh admissions are stopped by the central government, the state government shall take over the responsibility of the students already admitted".
This guarantee is given by every state government when issuing an essentiality certificate to start a medical college. On the basis of this guarantee, Madhya Pradesh, Punjab, Tamil Nadu, Uttarakhand, Haryana and Kerala, have shifted out students of private colleges which failed to fulfil MCI norms. In many of these cases, essentiality certificates were withdrawn and the colleges shut down.
However, despite Glocal being barred from admission in 2017 for two successive academic years, the UP government has refused to intervene or take responsibility for even the students who were allotted this college through the state counselling process.
"The MCI inspection reports are absolutely right. There are no patients in the hospitals. They bring fake patients during inspection. Though we had faculty in the first year, most have left as their salaries have not been paid. Yet the college has continued to collect tuition and hostel fees. So far, each of us has paid about Rs 30 lakh. The second year exams have not yet been held.
For five months, there have been no classes. We have met officials from the state government to those in MCI and central government. Those in the council and centre say it is the state's responsibility. But s